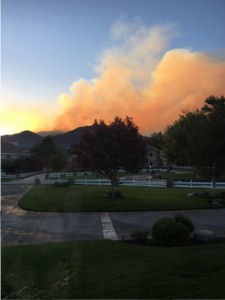 My husband, Frank, and I are back home and breathing a sigh of relief after one of the worst fires in Southern California's recent history.  Thankfully, the Sand Fire missed our house, but many of the nearby hills and canyons were destroyed. Burning a horseshoe around our neighborhood, the flames moved hill to hill, unpredictably jumping from one area to the next. I rushed to evacuate, moving in with my mom, while Frank stayed behind until the smoke became so thick he could no longer see flames.
This is actually my third evacuation due to fire. The first time, I was five years old and living in Northern California, when my mom packed all my clothes and forced me into whatever weird little outfit was left, to go to our friends' house for safety.  The second time was several years ago when I packed up our whole family.  So when the Sand Fire hit, you would think I'd know how to do this sort of thing.  But this time was different. The fire was closer, bigger, and completely out of control.  So I grabbed the "irreplaceables", photographs and documents, computer items, our dog, a few other things, and then I took off speeding down the road.
Here's what I learned from the Sand Fire:
1. Firefighters are amazing.  I never saw a group of people work so hard in such hot and horrible conditions.  They bravely took great risks to save us and our homes.
2. If you have to wait out a firestorm, it's a sweet comfort to be with your mom.  Mine is 86, but I was once again reminded that she's a dear soul and a real trooper.
3. My packing is ridiculous. I didn't even prepare an overnight bag. I later made a list of the things I should've taken with me. This is now my "go" list.
4. Even more curious were some of the items my husband kindly packed for me when he later evacuated.  My least favorite shoes that blister my feet by the time I get across the room.  A pajama top. A bathing suit coverup.
5. A normal day of my ordinary life in my regular home is truly a beautiful thing.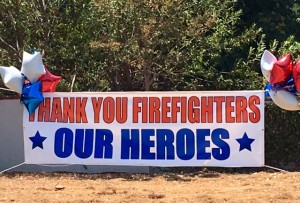 It just so happens that there's a short scene about a wildfire in my upcoming novel Faith Countryman.  That's when things heat up for the first time in Faith's young life. But I promise you, it's not the last.
Faith Countryman is scheduled for release September 27, 2016. Pre-orders are now underway at https://amzn.com/1503936295.