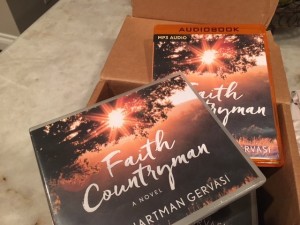 When my first batch of Faith Countryman Audiobooks arrived, I went from absolute excitement to sheer panic within seconds. After seeing these words on the page so many times, what on earth would my novel actually sound like? But, thanks to the voice of accomplished book narrator Dara Rosenberg, it didn't take long to fall into a fantastic audio experience. And into a story I knew so well, almost too well, in a fresh and new way.
So, how does she do it? How does Dara read an entire book, perform it without a stammer, a gasp, some weird breathing fit, or a nasty case of laryngitis?
For starters, she's a real pro. A nationally recognized voiceover artist with almost 200 audiobooks and dozens of national TV commercials on her resume. She is also the daily newsreader for Time Magazine, Huffington Post, CNN, & Reuters.  With a BFA in Drama from NYU's Tisch School of the Arts, Dara has a studio in her home in NYC where she lives with her husband, Alex.
Here's my interview with the talented Dara Rosenberg:
Lori:
Your voice is truly beautiful Dara! How did you get started in the audiobook business?
Dara:
Thanks so much Lori! I started recording audiobooks about five years ago. I had been a full-time voice-over artist and mostly did commercials and fun stuff like that. One day my agent got me an audition at Audible and the next week I recorded my first book! After that, it was very clear to me that telling stories and narrating books was exactly what I wanted to do.
Lori:
Would you describe your audiobook recordings as narrations or performances? Or a combination of both?
Dara:
I think it is a little bit of both. It really depends on the genre and the story itself. If it's a first-person story, then you really have to become the character, and not exactly put on this giant performance, but give it a really subtle touch that you are that person and you are explaining your story. In nonfiction it becomes a lot more of a narration.
Lori:
How many audiobooks have you recorded? Are there some that were far more challenging than others? How so?
Dara:
As of yesterday, I just finished my 188th book! There are definitely some that are more challenging than others. A lot of the time I find much in common with the main character, so it's just easier because we speak alike. If there are a TON of characters that can be a little more daunting. You just have to take it slow and make each character his or her own real person. Sometimes nonfiction can be tough, depending on the topic. I recently recorded a book about diamonds, and while I thought I knew everything about diamonds (!) =), I realized I had to look up how to say a word correctly in every other sentence.
Lori:
Your voice is pure and clear and very easy to understand. Do you have to work to keep it healthy? Vocal exercises? Special gargling solutions perhaps? Do you have to rest your voice a lot?
Dara:
I think a lot of it is technique. I went to Drama School at NYU's Tisch School of the Arts and my training in voice and speech has really helped me. A few years ago, I never could have recorded as much daily as I do now. I have learned how to control my voice and not speak at concerts, games, and loud restaurants. I'm that uncool friend that walks into a restaurant and says, " It's really loud in here… can we go somewhere else?" I do steam my voice with a steamer every morning. I don't know if it does anything. It just makes me feel better!
Lori:
There were many scenes in Faith Countryman where you performed not only Faith's narrator voice, but also lines of dialog using several different voices all in one scene. How do you keep from getting confused about who's who while reading in a production session? What type of reading and preparation is involved in pre-production to make sure you don't mix up the voices of characters while recording?
Dara:
Well, I think that your story flowed really well. It was obvious in the moment who was speaking because the story presented itself that way. So the work was done for me! I always read the book before I begin. Just to look up any pronunciations and if there are accents, questions about characters, anything! I like to have all that knowledge up front before I dive in.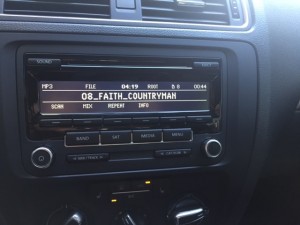 Lori:
What types of voices and personalities do you enjoy performing most in the novels you work on?
Dara:
Obviously, if a personality is close to my own, it's always a lot easier to represent the character. However, there is nothing better than a wacky crazy grandma or some fun character that just makes everything better! They usually aren't the lead characters but they pop in and out of scenes. That's always fantastic.
Lori:
Are there other voice-related jobs you do? Are you an actress or a singer or a radio show performer?
Dara:
Yes. I do have a few commercials running now and I work a lot with businesses on corporate presentations and all kinds of work! Sometimes I might be that "on-hold" messaging voice if you call a big company. My husband sometimes hears me randomly when calling a large company.
Lori:
Is this a career you can work on in your home with your own equipment, or do you go to a recording studio to produce the audiobooks?
Dara:
It's a lot of both. I do have a studio at my house, and depending on the project, I do them in-studio or at home. I really love doing both. Sometimes being in a vocal booth by yourself all day can get lonely, but luckily, I get to venture out to studios in NYC all the time.
Lori:
From your unique point of view, what can you tell a prospective reader/listener about the experience of listening to the Faith Countryman audiobook?
Dara:
Well, the thing I loved about Faith Countryman was how positive it was. So many stories today are dark and depressing, and it was a good week while recording this one. I felt lighter and just all around happier recording this story. Faith is an incredible woman and I think we all wish we could have a little part of her in ourselves.